SCCSAB Wishlist: How We Would Like to Further Assist Our Sheriff's Deputies
The SCCSAB keeps an ever-growing list of ways and means to further assist our Santa Clara County Sheriff's Office to perform their duties with the utmost effiency and safety. We have many items that we would like to purchase to help the Sheriffs provide quality service, including our Wishlist below.
With the helpful donations from concerned individuals the SCCSAB is able to procure these items in a quick and efficient manner so that the Sheriff's Office is better capable of carrying out the specific duties to keep our County safe.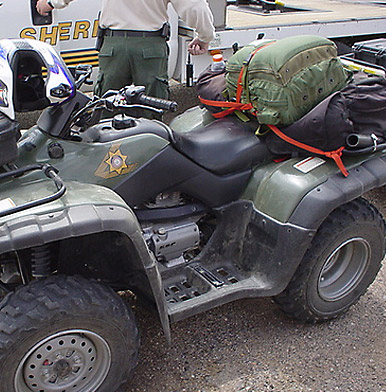 4x4 ATVs
ATV used to access hard to reach areas in the remote parts of Santa Clara County. Drug searchs, lost child, Marijuana ratifications.
The SCCSAB would like to provide the Sheriff's Office with up-to-date 4x4 ATVs.